What is Gildan Dryblend?
The Gildan Dryblend T-shirt has the best of both worlds as it combines preshrunk cotton and polyester, making it extremely soft and durable.
Due to its many benefits and it being an ideal canvas for heat transfers and embroidery, the Gildan Dryblend 50/50 t-shirt has quickly become a favourite amongst the garment decorator industry.
---
Does the Gildan Dryblend 8000 shrink?

The Gildan Dryblend 8000 shirt is made from 50/50 cotton and polyester, so shrinkage is very minimal.
Also, because of its colour-fast synthetic component in the blend, the Dryblend fabric holds up well even after repeated washing and drying.
However, to keep your garments in optimal condition, we always recommend following the care label when washing.
---
Is the quality good?

Yes, the Gildan 8000 T-shirt is extremely breathable and durable, but don't take our word for it, check out our customer reviews here.
---
Are Gildan 50/50 shirts soft?

The Gildan 8000 T-shirts are not only soft against the skin, but the Dryblend moisture-wicking technology will help you to stay dry and cool during the busiest days!
---
The colour or size I want is sold out, when do you restock?
If the product you are looking for is currently out of stock, simply sign up for our restock notifier to be notified when it is available again for purchase!
---
The youth version:
Does your little one attract mess, dirt, and spills? We recommend the Gildan 8000B DryBlend® 50/50 Youth T-shirt.
This super durable, blended t-shirt is ideal for busy parents as it's made from 50/50 cotton and polyester, and has Dryblend moisture-wicking technology to keep your kids comfortable and cool all day at school.
---
Printing with a 50/50 t-shirt:
Are you interested in apparel customization? Check out our Youtube step-by-step guide on apparel printing and embroidery. This is where our blank clothing industry expert will teach you everything you need to know about fabric selection.
---
What is the difference between the Gildan Dryblend and the Gildan Heavy Cotton?

The biggest difference between the Gildan 5000 Heavy Cotton T-shirt and Gildan 8000 Dryblend T-shirt is its material. The Gildan 8000 is made from 50% cotton and 50% polyester, whereas the Gildan 5000 is 100% cotton.

The Gildan Dryblend shirts and sweatshirts also offer moisture-wicking technology and are wrinkle-resistant so you can feel comfortable and dry all day long. However, both t-shirts are great for promotional and everyday use, so it just depends on what you are specifically looking for.
For more information on the Gildan 5000, check out our Gildan 5000 FAQ page or our Gildan 5000 t-shirt product page.
Still unsure which shirt is right for you? Get free advice from our knowledgeable staff here.
---
What is the difference between the Gildan Dryblend and HeavyBlend?
While both the Gildan Dryblend & Gildan Heavy Blend collections share the same blend of fabric (50/50 polyester and cotton), the Gildan Dryblend collection only consists of t-shirts and polos, whereas the Gildan Heavy Blend selection carries both sweatshirts and sweatpants.
However, both styles are available in both adult and youth sizes! For more of the Gildan Heavy Blend collection, visit here.
---
How do Gildan 50/50 shirts fit?
The Gildan 8000 unisex t-shirt features a classic fit that is designed to fit loosely with ample room in the chest, waist, shoulder, and sleeves area for movement. Unlike a slim-fit shirt, a regular-fit t-shirt does not taper down the body from the chest to the waist.
The classic fit is not only flattering for most body shapes but is extremely comfortable to wear, so it is no surprise that they are one of the most popular styles to use for promotional apparel.
---
Gildan 8000 Size Chart:
| | | | | | | | | |
| --- | --- | --- | --- | --- | --- | --- | --- | --- |
| | S/P | M/M | L/G | XL/TG | 2X | 3X | 4X | 5X |
| Width | 18 in (46 cm) | 20 in (51 cm) | 22 in (56 cm) | 24 in (61 cm) | 26 in (66 cm) | 28 in (71 cm) | 30 in (76 cm) | 32 in (81 cm) |
| Length | 28 in (71 cm) | 29 in (74 cm) | 30 in (76 cm) | 31 in (79 cm) | 32 in (81 cm) | 33 in (84 cm) | 34 in (86 cm) | 35 in (89 cm) |
---
Video:
---
Additional Photos: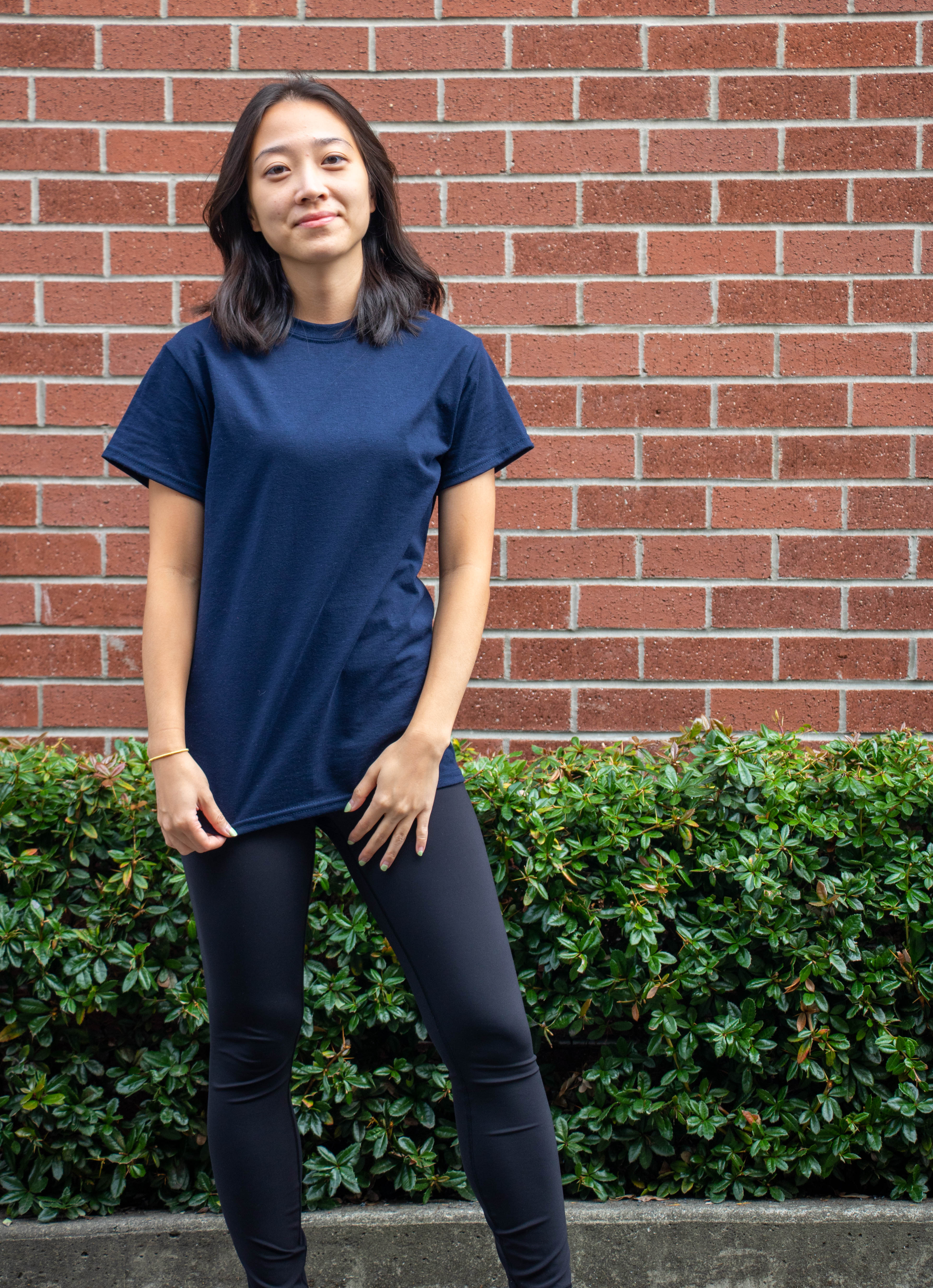 Similar styles:
Gildan 8300 DryBlend® Pocket T-Shirt
Gildan 8400 DryBlend® 50/50 Long Sleeve T-Shirt
Gildan 8000B DryBlend® 50/50 Youth T-shirt
Gildan 8800B Youth DryBlend® Jersey Polo
Gildan 8800 DryBlend® Jersey Sport Polo
---
Convinced this is the shirt you want? Grab your Gildan 50/50 T-shirt here today.
Recent Posts
Just in! The super affordable Champion S162 Polyester Mesh 9" Shorts with Pockets features an athlet …

Be sure to follow us on our TikTok account for some office behind-the-scenes, funny moments, an …

We have new items that just came in and are always updating our new arrivals page, so head over …