Posted by May on 4th May 2018
Mother's Day will be here soon enough, which means that it's time to start thinking about how you're going to cement your place as your mom's favourite kid. Obviously, you can't buy a mother's love but you can definitely grease the wheels by gettng her the right gift.
The woman who taught you everything deserves more than a store-bought card. These thoughtful, hand-picked finds will remind her on Mother's Day that she raised you right.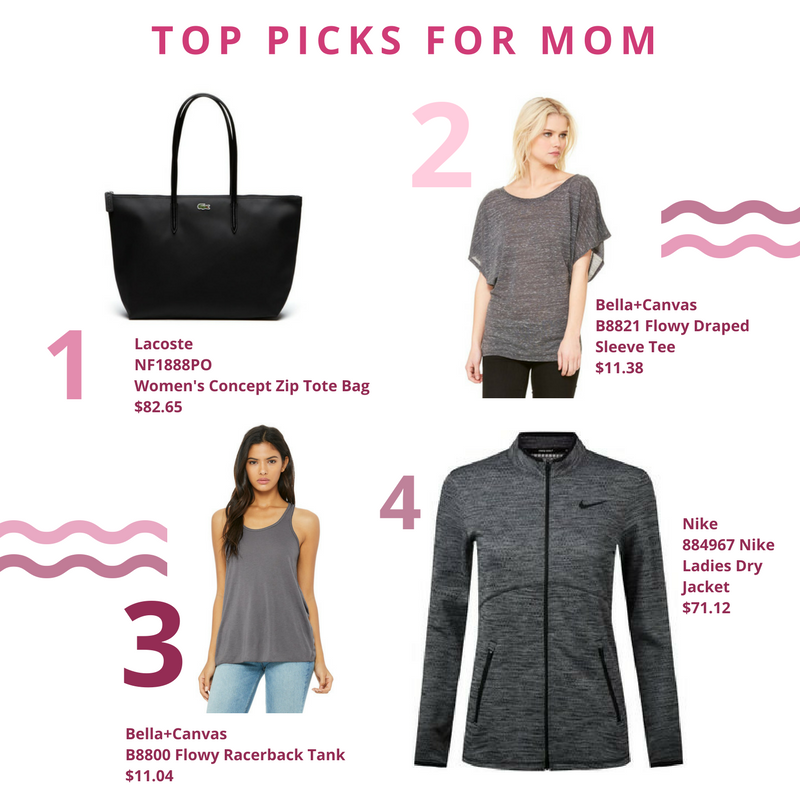 1.Lacoste Women's Concept Zip Tote Bag
This is the perfect bag. It is sports inspired, perfect for the gym but can totally be utilized for your other day-to-day activities as well. The bag has long handles and an interior net pocket that provide a practical touch. Great for moms on the go!
2.Bella+Canvas Flowy Draped Sleeve Tee
This is probably one of the most flattering tops we have on the site! This drape is extremely flattering on almost any figure.
3.Bella+Canvas Flowy Racerback Tank
This Bella+Canvas Flowy Racerback Tank is a comfortable blended tank that has a very flattering drape and soft texture. It is super lightweight, great for the upcoming season!
Get mom a high quality ladies' jacket! It is made with 100% circular knit polyester, and has a super comfortable Nike Dri-FIT fabric. It's a full-zip design for adaptable Dri-Fit coverage to help keep you dry and comfortable on and off the golf course.
So here you have it, our top picks for mom!