The Jerzees 996MR NuBlend Hooded Sweatshirt is THE no-frills blank hoodie you've been looking for. Whether you have an apparel printing business or your own clothing brand, the Jerzees 996 is the bedrock of all blank apparel.
Now straight to the facts, the 996MR NuBlend Hoodie is the best-priced adult unisex blank hooded sweatshirt we carry. It is almost identical to the famous Gildan 18500 with a few small differentiating details. Read on if you'd like to know more about the 996MR hoodies.
---
How much does it weigh?
This well-priced blank hoodie is easy on the wallet and the environment. The Jerzees 996MR is made with sustainably sourced USA-grown cotton and weighs 13.3 oz (CA) 8 oz. (US). Larger sizes do weigh slightly heavier.
The Jerzees 996MR is considered a midweight unisex sweatshirt, but don't let the weight fool you, our customers are always surprised to find how warm this hoodie is. All thanks to its NuBlend pill-resistant fleece interior, making it the only hoodie you need, as a Canadian.
---
How is the fit?
The Jerzees Hooded Sweatshirts are true to size. We recommend sizing up for a looser fit.
Be sure to check our sizing chart below prior to placing your order or contact our customer service if you need help deciding.
---
Color & sizing
We carry 21 solid colors and 8 heather colors. All are available in unisex sizes S-5XL.
---
Does it shrink?
Not much! Shrinking is reduced drastically by 50% polyester and 50% preshrunk cotton composition. Polyester is a very durable material that does not shrink at all and cotton keeps the hoodie breathable.
---
The Jerzees 996MR NuBlend Hoodie vs The Gildan 18500 Heavy Blend Hoodie
It is very difficult to tell the Jerzees 996MR NuBlend Hooded Sweatshirt apart from the Gildan 185000 Heavy Blend Hooded Sweatshirt. They are identical in fabric composition, weight, size options, and even feel similar when compared side-by-side. But don't worry, there are small details to tell the difference.
Firstly, the Jerzees hoodie is slightly longer in length and has noticeably longer sleeves. For those who prefer a more "streetwear" fit, the Jerzees is a great option (size up if you are going for that relaxed & oversized look). The next difference is visible in the eyelet detail. The 996MR has grommets whereas the 18500 does not. Lastly, the 18500 comes in 41 colors and the 996MR comes in 21 colors. Both are offered from S - 5XL.
Pro tip: Some of our customers will use either one as an alternative option, if the one they want is out of stock.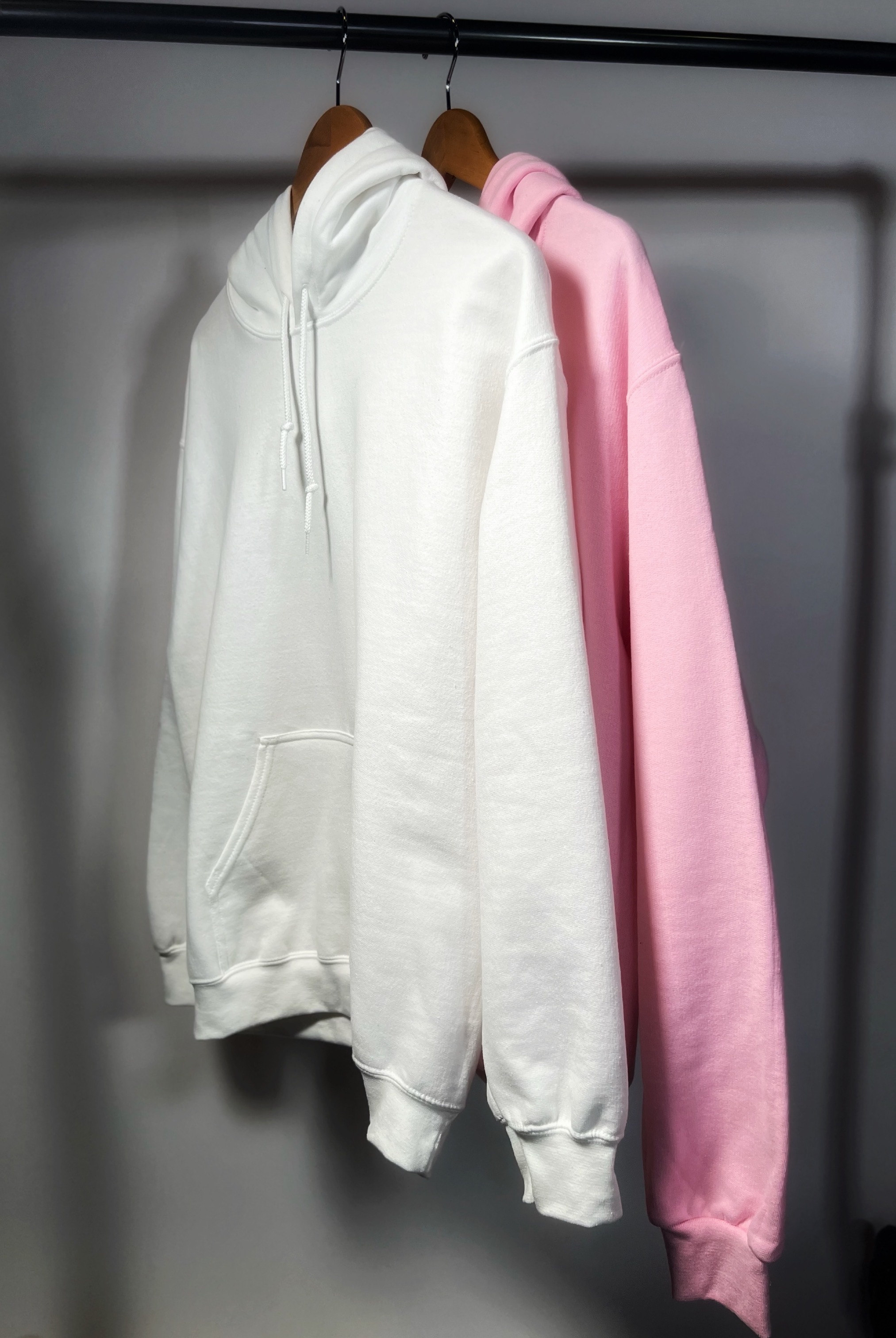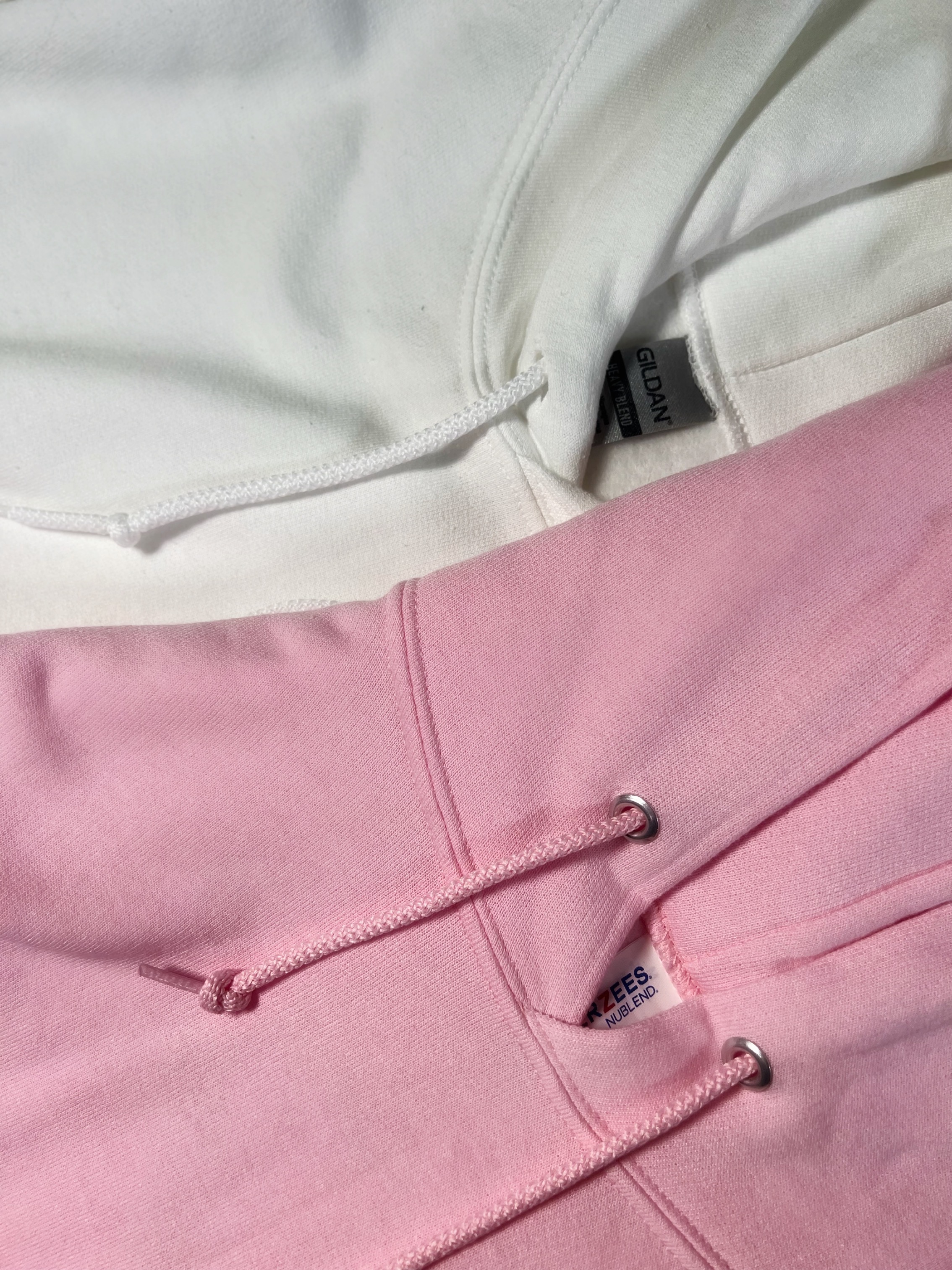 An obvious reason why the Jerzees hoodie is so popular is due to its price. At less than $20 per hoodie (more inexpensive than the 185000), the 996MR is truly a bang for your buck, especially with our bulk discounts, you know you'd be getting the best deal in Canada. Sign up for our newsletters to get 5% off your first purchase!
---
Does it print well?
The Jerzees 996MR pullover hoodie is made with high stitch density fabric that creates a smooth printing canvas for customization.
It also features a seamless body construction (no side seams) that allows for effortless printing on the sides of this blank hoodie.
Based on our customer reviews, Jerzees are easy to use with common printing applications such as HTV, screen print, and embroidery. For more printing tips from our expert decorator Jeff, check out our dedicated T-shirt.ca's Youtube channel. Want to ask a real person instead? Contact our customer service team here.
---
Size chart
| | | | | | | | | |
| --- | --- | --- | --- | --- | --- | --- | --- | --- |
| | S/P | M/M | L/G | XL/TG | 2XL | 3XL | 4XL | 5XL |
| Width | 20" | 22" | 24" | 26" | 28" | 30" | 32" | 33" |
| Length | 27" | 28" | 29" | 30" | 31" | 32" | 33" | 34" |
| Sleeve | 35" | 36" | 37" | 38" | 39" | 40" | 41" | 42" |
---
Product video
---
It's no surprise that the Jerzees 996MR NuBlend Hooded Sweatshirt is a hot-selling product amongst the blank industry, so act fast here to get your ideal size and color before it's all gone!
Recent Posts
Just in! The super affordable Champion S162 Polyester Mesh 9" Shorts with Pockets features an athlet …

Be sure to follow us on our TikTok account for some office behind-the-scenes, funny moments, an …

We have new items that just came in and are always updating our new arrivals page, so head over …