From bulk screen printing to casual wear, Gildan offers great value for your money. In this FAQ, we will get into the weight, customer reviews, and comparison of brands for our most popular blank long sleeve: the Gildan 2400 Ultra Cotton Long Sleeve Shirt. The Ultra Cotton line is made with 100% cotton, they are weighty and a breeze to print on. It has that pure cotton feel we love without the see-through effect some people dread. Keep reading and let us help you find the best blank shirt for your needs.
---
Does it shrink?
The Gildan 2400 Long-Sleeve T-shirt is made with 100% preshrunk cotton. Compared to regular cotton, preshrunk cotton goes through an extra process prior to manufacturing, so it will be more resistant to shrinkage, and tend to hold its color better.
When washing and drying according to the care label's instructions, this blank t-shirt will last through many washes.
---
Does it run big or small?
This unisex t-shirt fits true to size and comes in sizes S-3XL. At T-shirt.ca, we always recommend that our customers check the size chart prior to ordering. You can also reach out to our customer service team if you are unsure about sizing.
| | | | | | | | | |
| --- | --- | --- | --- | --- | --- | --- | --- | --- |
| | S | M | L | XL | 2XL | 3XL | 4XL | 5XL |
| Width | 18" (46 cm) | 20" (51 cm) | 22" (56 cm) | 24" (46 cm) | 26" (61 cm) | 28" (71 cm) | 30" (76 cm) | 32" (81 cm) |
| Length | 28" (71 cm) | 29" (74 cm) | 30" (76 cm) | 31" (79 cm) | 32" (81 cm) | 33" (84 cm) | 34" (86 cm) | 35" (89 cm) |
Is the size or color you want out of stock? Sign up for our in-stock notifier on the product page and you will be the first to know when it is restocked.
Need an alternative? We recommend the American Apparel 1304 Long Sleeve T-shirt. It is very similar to the 2400 Ultra Cotton in terms of material, weight and fit. The 1304 is made with 100% preshrunk cotton and weighs 10 oz.
---
What is the difference between Gildan Heavy Cotton & Gildan Ultra Cotton?
Gildan terminology can get confusing, but don't worry, you are not alone! We made a handy comparison chart for the two Gildan shirts.
Both of these blank t-shirts are great for a variety of uses. The lighter 5400 Heavy Cotton T-shirt is definitely the more economical option of the two. If you need a good quality blank long sleeve shirt for promotional giveaways, event merch or uniforms then this is the shirt for you. It is one of the best priced 100% cotton long sleeve t-shirts we carry!
The 2400 Ultra Cotton T-shirt offers more of a premium blank t-shirt feel. It is heavier and softer in comparison to the Gildan 5400, and also comes in more color and sizing options! Worried about the lighter colors being see-through? This is not an issue for the weighty Gildan 2400.
---
What is a tear-away tag?

This blank t-shirt is designed for apparel decorators and it features a tear-away tag so you can effortlessly add your own label and branding.
Tear-away tags look like any regular apparel tags but it is constructed with a paper-like material that you can easily tear off without the use of scissors or damage to the fabric.
---
Customers' Review
Based on our customers' feedback, the Gildan 2400 Long Sleeve T-shirt is an exceptionally priced blank shirt that is truly ideal for both printing and everyday wear. You can wear it on its own or layer it with your favorite hoodie for added coziness, 100% cotton is breathable and durable.
You can view more customer reviews on the product page.
---
More styles from the Gildan Ultra Cotton family

Ultra Cotton Long Sleeve Pocketed T-shirt
Youth Ultra Cotton Long Sleeve T-shirt
---
Product video
---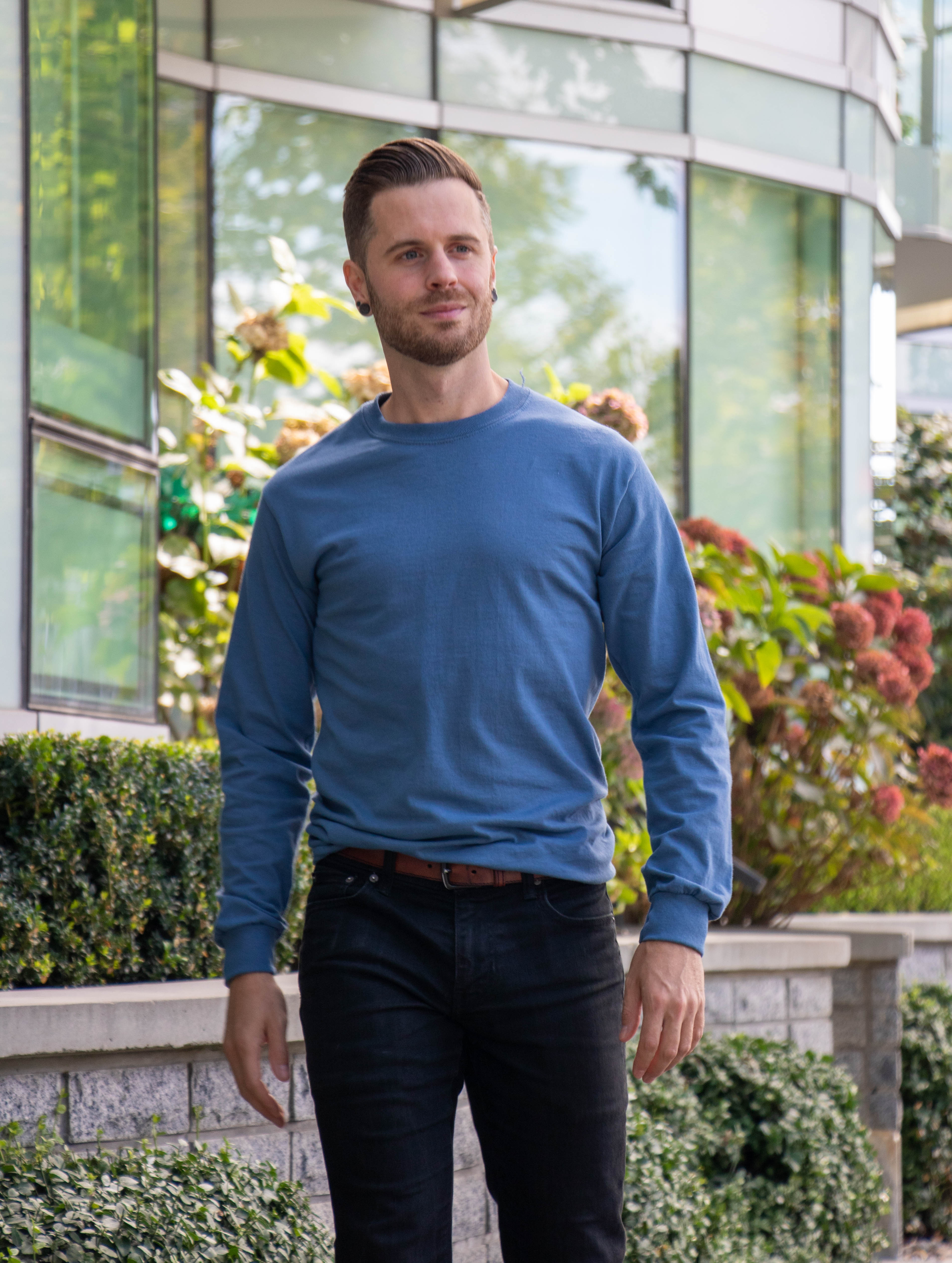 The Gildan 2400 is definitely an essential for fall season, so don't wait and miss out on your size! Shop all colors here!
Recent Posts
Just in! The super affordable Champion S162 Polyester Mesh 9" Shorts with Pockets features an athlet …

Be sure to follow us on our TikTok account for some office behind-the-scenes, funny moments, an …

We have new items that just came in and are always updating our new arrivals page, so head over …