We all have that old band or gym class tee in our closet and know it belongs in the donation bin, but just can't seem to part with it. The chances are it's probably an Alstyle Apparel t-shirt.
---
What happened to the Alstyle 1301?
Unfortunately Alstyle Apparel & Activewear has recently been discontinued. But the good news is their classic items will continue to sell with the same quality and feel you love under the iconic blank basics brand, American Apparel.
This is a list of the discontinued Alstyle products we carry that are now a part of the American Apparel family:
---
Is the American Apparel 1301 T-shirt the same as the Alstyle 1301 T-shirt?
They are the same t-shirt! The American Apparel 1301 Unisex Heavyweight Cotton T-shirt is formerly known as the Alstyle 1301 Classic T-shirt.
---
Does the American Apparel 1301 T-shirt shrink?
The American Apparel 1301 is made with 100% preshrunk US cotton. While preshrunk garments will resist shrinking in the wash, we still advise our customers to expect 2-3% shrinkage.
To avoid shrinkage completely, it is best to wash in cold water and air dry 100% cotton shirts.
---
How much does it weigh?
The American Apparel 1301 Adult Cotton T-shirt is considered a heavyweight cotton t-shirt weighing 10 oz (CA) and 6 oz (US).
A heavyweight t-shirt is an excellent choice for frequent wearing and washing. They are durable and work well for printing and embroidery, which make them staples in wholesale blanks. They really are a bang for your buck in terms of value!
Check out our bulk prices here.
---
American Apparel 1301 Unisex Heavyweight T-shirt Size Chart (Measurements in inches)
| | | | | | | | |
| --- | --- | --- | --- | --- | --- | --- | --- |
| | S/P | M/M | L/G | XL | 2XL | 3XL | 4XL |
| Width | 18" | 20" | 22" | 24" | 26" | 28" | 30" |
| Length | 27" | 29" | 31" | 32" | 33" | 34" | 35" |
---
What is the fit?
This versatile blank t-shirt features a classic fit that is easy to wear. It gives just enough room for comfort without looking too baggy and sits nicely just below the belt line. This classic cut is by far the most popular fit in the blank apparel industry.
---
Is it unisex?
Yes, the American Apparel 1301 is unisex and is available in sizes S to 4XL.
---
American Apparel 1301 vs Gildan 2000
The American Apparel 1301 T-shirt and the Gildan 2000 Ultra Cotton T-shirt are two very similar 100% cotton unisex tees. They share the same weight, material and fit. The most obvious difference between the two is their color and size options. The American Apparel t-shirt comes in 27 colors with sizes S-4XL while the Gildan t-shirt comes in 60 colors S-5XL.
For those that are peculiar about the tiniest details, they will also notice the slight difference in the collar area. The 1301 features a 1" non-top stitched collar and the Gildan 2000 has a ⅞" double needle collar. Over the years, a few of our customers have mentioned that the 1301 feels slightly tighter in the neck area compared to the 2000.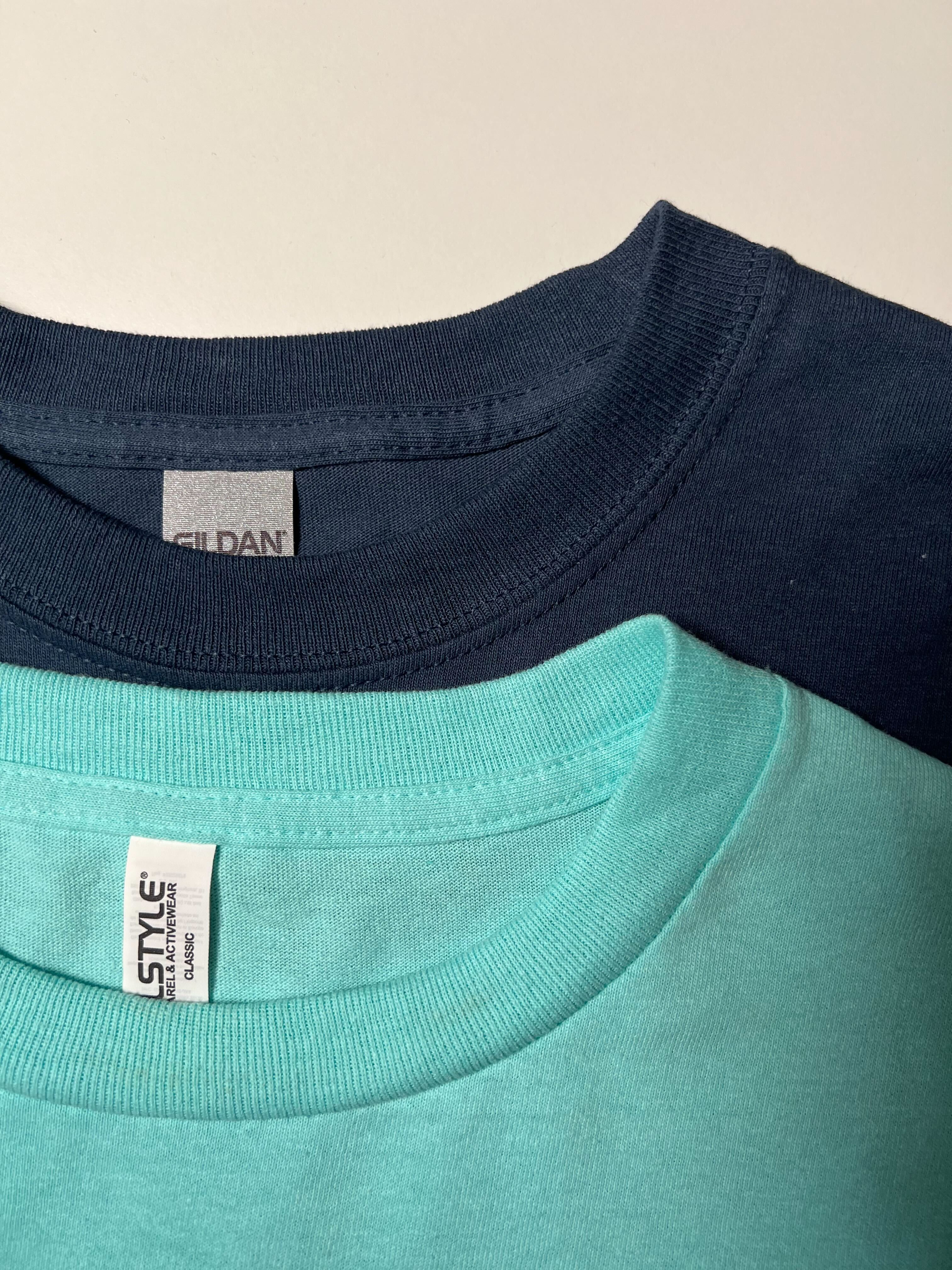 ---
Check out the long sleeve version of this tee from the same collection:

American Apparel 1304 Unisex Heavyweight Cotton Long Sleeve T-shirt
---
Youtube:
---
Additional Photo:
Model is wearing the colour Celadon.
---
If you're looking for an affordable basic that doesn't sacrifice comfort or quality, this is it. With 18 different shades to choose from, there is a colour for everyone! Get yours today here.
Recent Posts
Just in! The super affordable Champion S162 Polyester Mesh 9" Shorts with Pockets features an athlet …

Be sure to follow us on our TikTok account for some office behind-the-scenes, funny moments, an …

We have new items that just came in and are always updating our new arrivals page, so head over …